Sale!
Description
Our lungs are one of the most important organs of our body, performing the vital function of delivering oxygen to our blood which is the life line of every cell in our body.
However, lungs are among the organs which are constantly exposed to the outside environment and its pollutants. After years of inhaling or just simply breathing in harmful toxins and chemicals,air pollution, cigarette smoke; cleansing your lungs is not only crucial, but it is a must for overall lung health.
This tea is a right mix of natural herbal extracts formulated to provide respiratory support and it the perfect lung and respiratory system cleanse to support your respiratory health and strengthen your respiration ability.
It's main Ingredient; Mullein leaf & flower has been used for centuries for lungs cleansing and many research studies have proven it to be an ultra effective herb for lung cleansing and improved functioning
It is very important to protect your lungs from further damage, detoxify your lungs today to keep your lungs healthy.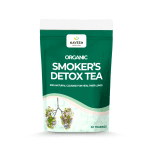 Smokers' Detox Tea
Your review
* Review is required
Email
* Email is required
Add photos or video to your review
Q & A
There are no questions yet