Sale!
ORGANIC LAVENDER SLEEP TEA
Description
Chamomile flowers: one of the world's most popular herbs. Chamomile contains apigenin, an antioxidant that binds to certain receptors in your brain that promotes sleepiness and reduce insomnia, or the chronic inability to sleep.
Lavender flower: Another very popular herb known for it's very beautiful fragrance, Lavender has been used since ancient times to tackle issues like insomnia and Anxiety
Valerian root: After analyzing 60 research studies published over nearly 40 years, researchers determined that valerian root can likely improve sleep and reduce anxiety in many people. Valerian root supplements have been found to help people fall asleep faster, improve their sleep quality, and spend more time in a deep sleep stage.
Benefits
* Fights insomnia
* Improves sleep quality
* Releives stress and anxiety
* Has aromatherapy properties
The Lavender sleep tea is best taken at night or when you want to sleep. It takes effect almost immediately and sleep should come under 1 hour after use
Features
* 30 teabags
* 100% Natural ingredients
* No artificial sweeteners, additives or preservatives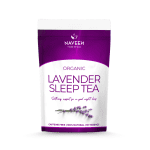 ORGANIC LAVENDER SLEEP TEA
Your review
* Review is required
Email
* Email is required
Add photos or video to your review
Q & A
There are no questions yet